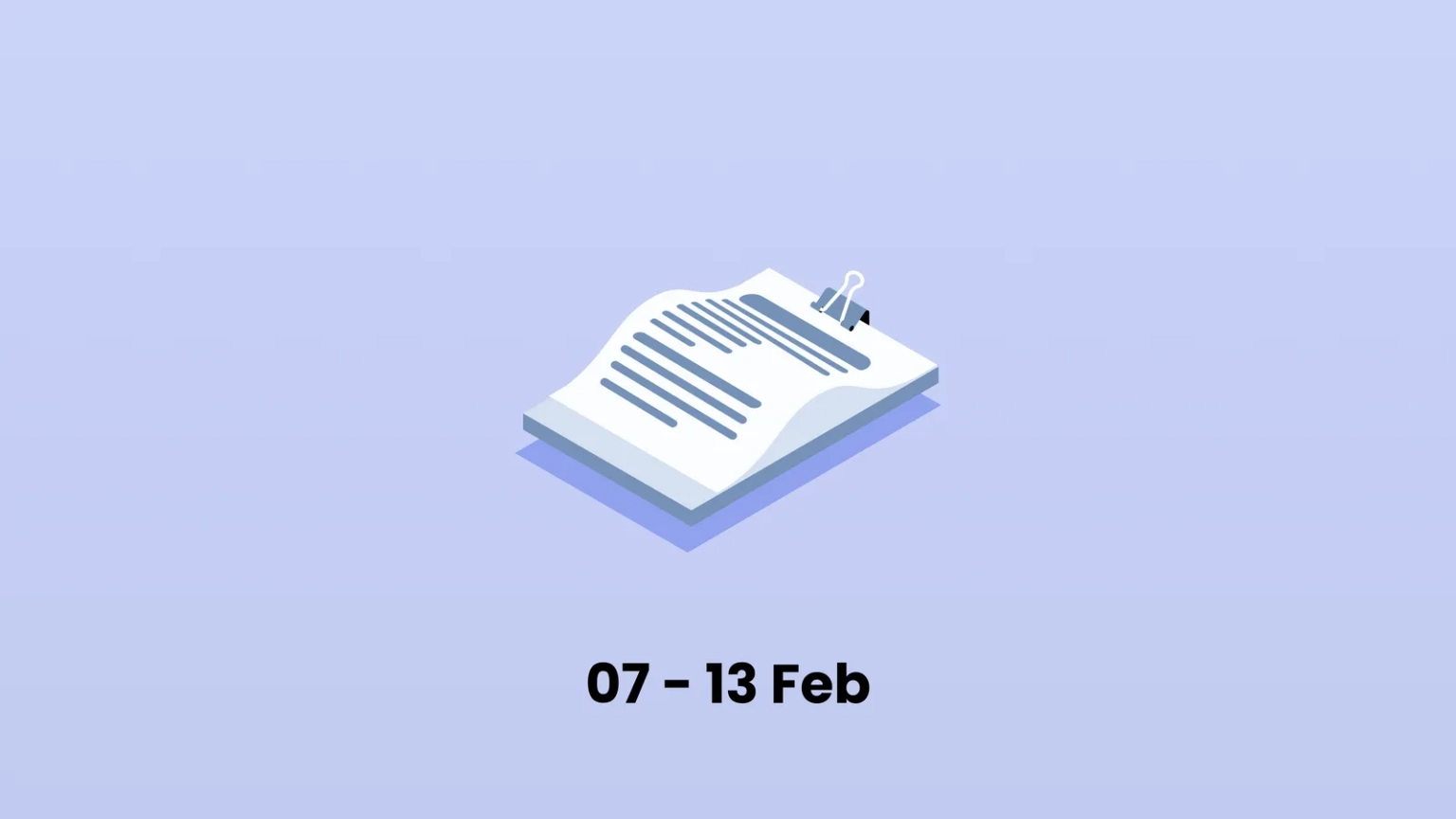 The UN has approved an NFT standard initiative led by Tencent. Aave launched Lens Protocol.
TL;DR#
The United Nations has approved an NFT standard initiative led by Tencent.
McDonald's and Panera Bread have filed multiple trademarks for NFTs, and virtual restaurants.
Aave has launched Lens Protocol, the web3 social media platform.
Legia Warsaw became the first European club to partner with an NFT agency; Manchester United signed a multi-year partnership with Tezos.
The Metaverse is still a new concept, but it has quickly risen to become one of the most important trends in 2022, with a market capitalization of more than $26 billion. Virtual worlds are getting new features to make them more realistic, allowing users to construct their own interactive experiences.
Blockchain Hacks#
On February 8th, an attacker exploited Superfluid to drain several assets valued at around $8.7 million, including 19,387,874 QI, 11,008 MATIC, 1,507,931 MOCA, 28 ETH, and others. The crypto streaming protocol was hacked, resulting in collateral damage to a number of other projects that relied on it for contributor payments or investor escrow contracts.
Following the breach, on February 9th, another exploit hit Dego Finance, a Binance Smart Chain-based protocol, and their strategic partner, Cocos-BCX, an Ethereum-based GameFi project, draining around $14.4 million in digital assets from the liquidity pools for the projects on PancakeSwap and Uniswap respectively. As per the announcement by the Dego's team, the hacker was able to steal the funds from the projects after the private key was compromised.
Metaverse, and NFTs#
The International Telecommunication Union (ITU), a United Nations institution for information and communication technology, has approved Tencent's proposal to investigate a standard technical and security framework for NFTs. The project, termed a "technical framework for DLT-based digital collection services," will be the first U.N. approved standards initiative for NFTs, with the first draft due by the end of 2022.
McDonald's has filed for ten separate trademarks in preparation for a move into Metaverse. The American restaurant has applied for trademarks for its own virtual food and beverages, as well as downloadable multimedia files featuring artwork, text, audio and video files, and NFTs. It has also applied for its own intellectual property encompassing entertainment services such as real-world and virtual concerts and events, as well as running a virtual restaurant with real and virtual goods and another virtual restaurant online featuring home delivery.
Another US-based food chain Panera Bread also registered a trademark for NFTs to permit commercial transactions of virtual food and beverages, as well as computer programs to access such tokens in the metaverse. Under the brand name "Paneraverse", the restaurant will also roll out features to build virtual restaurants and other delivery aided benefits.
Bluethumb Digital, Australia's largest online art gallery, is entering the NFT sector. The NFT marketplace, which will stage its genesis drop in late February, will be home to some of the country's biggest digital artists.
The interest in blockchain gaming has significantly risen since the last quarter of 2021. With all of the buzz around this industry, Zynga has announced its plans to enter NFTs and blockchain-based gaming. By the end of 2022, the online and mobile game producer intends to expand its blockchain team from 15 to up to 100 people and launch an NFT-based game.
Alfa Romeo has rolled out its plans to launch the Tonale SUV in the fourth quarter of 2023, which will combine blockchain and NFTs to track the vehicle's history. According to Alfa Romeo, the Tonale NFT will certify the car at the time of purchase and then record its overall status throughout its lifetime, thereby boosting its residual value.
In other news, Aave, the decentralised finance lending platform, has launched the Lens Protocol ecosystem on the Polygon blockchain. The protocol is a Web3-based social network that allows users to build a fully customizable NFT profile which includes the history of all posts, reposts, comments, and other content such as music, discussion, art, photography, and video.
A large number of global sports brands are experimenting with blockchain and Web3-based technology, as well as other innovative ways to link sports clubs and fans. Legia Warsaw, one of the most successful football clubs in Poland, becomes the first European club with an official NFT agency. The collaboration between Capital Block and Legia Warsaw will benefit the football club in engaging with its supporters by creating a community and developing NFTs that portray historic and significant moments in the team's history.
Manchester United is another addition to the list, with their plans to create a fan ecosystem based on the Tezos blockchain's metaverse concept. The multi-year collaboration with Tezos as the official training kit and technology partner will allow the iconic club to deliver tailored experiences to supporters in the web3 world, amid growing focus from mainstream firms and brands.
Tags