Cover Product Spotlight: OKX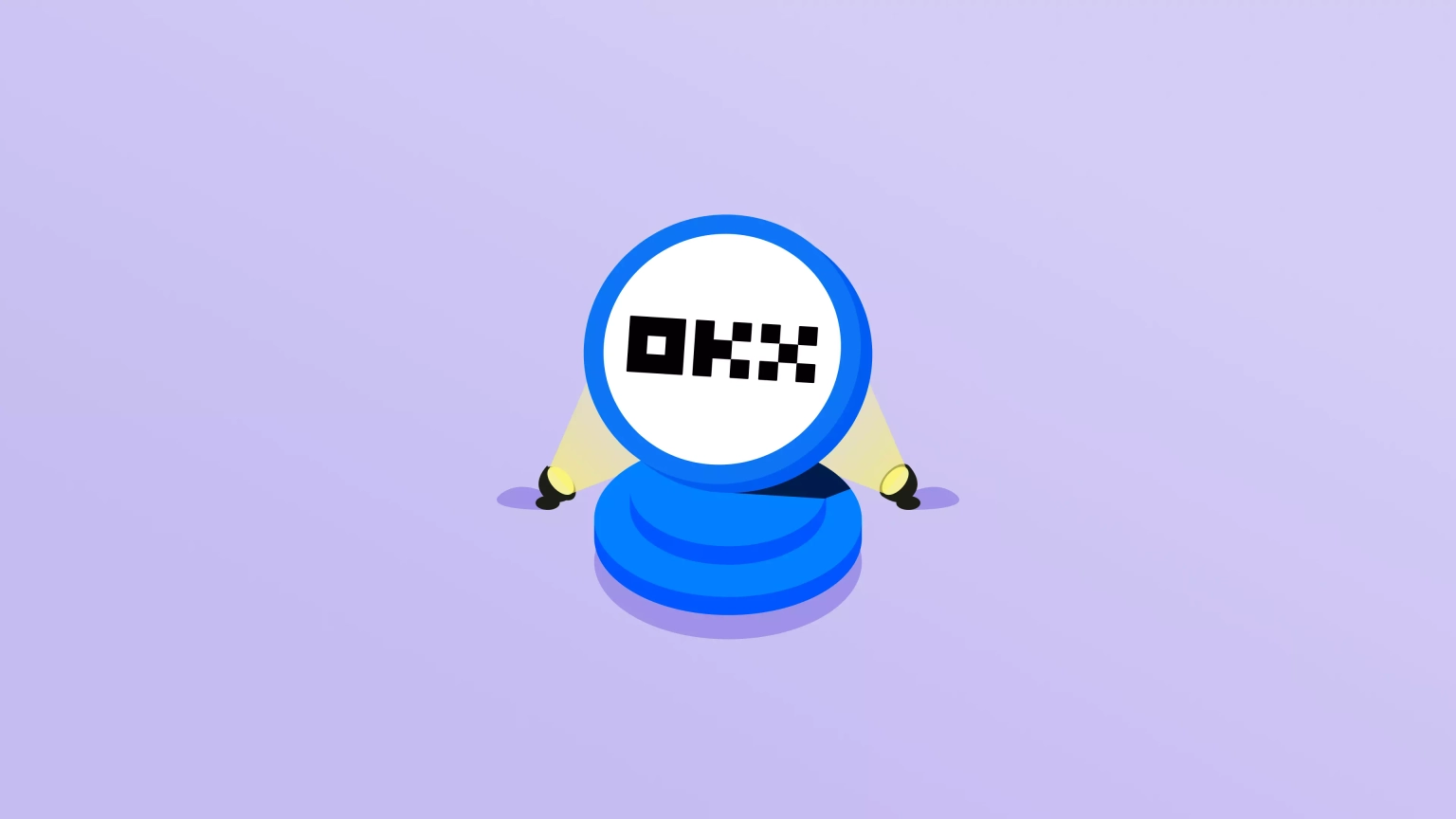 A spotlight article on the OKX Exchange, its founder & CEO, Star Xu, and other key points.
About OKX Exchange#
OKX is a Seychelles-based company launched by Star Xu in 2017. It is now one of the top ten CeFi crypto exchanges, as ranked by Coingecko. In January 2022, OKX released its first proof of reserves report, showing it to be overcollateralized with a reserve ratio of 104% for bitcoin, 104% for ETH and 102% for USDT. The report identified $8.6 billion in "clean assets", the largest clean asset reserve of all large crypto exchanges. A second report was published at the end of 2022. The reserve ratios, as of the 16th March 2023, are published on the reserve ratio page of the OKX website.

OKX offers a large number of features, including flexible borrowing, different ways to earn interest on staked tokens, simple and complex trading tools, and it also provides access to the DeFi ecosystem.

It is unavailable to U.S. citizens. U.S. citizens may use OKCoin, its sibling exchange, which has fewer currencies and services.

OKX Ventures is an investor in Neptune Mutual's seed round. A dedicated OKX cover pool has been created in both the Ethereum and Abritrum Neptune Mutual marketplaces. Neptune Mutual is the only DeFi Insurance protocol where OKX users can buy cover to mitigate the security risks of a breach to OKX Exchange's hot or cold wallets and custody risks associated with a freeze on withdrawals.
What Makes OKX Unique#
Users can open accounts with a wide variety of different fiat currencies. OKX positions itself as a leader in terms of the broad range of crypto services that it offers, including spot trading, margin trading, futures trading, and options trading. There are hundreds of trading pairs, high staking APYs, and a buy/sell dashboard that is easy to use. Additionally, the exchange provides a variety of tools and services for institutional traders, such as an API and sub-account management. This diverse range of services makes OKX Exchange a one-stop-shop for cryptocurrency traders of all levels.

The exchange has a tier-based fee structure with maker and taker fees that vary depending on which tier level you fall within. Your tier level is based on your OKB holding and either the amount of assets that your account holds or the volume traded over a 30-day period. The full fee schedule is posted on the OKX Exchange website.

OKX Exchange is known for its innovative approach to product development. For example, the exchange was one of the first to offer options trading for Bitcoin and Ethereum, and it has since expanded its options trading to other cryptocurrencies. Additionally, the exchange has developed a range of other innovative products, such as OKX Pool, which allows users to mine cryptocurrency without having to purchase expensive mining equipment.

OKX has developed a wallet that complements its portal to Web3 services that include a Web3 dashboard, access to DEXs and the OKX NFT aggregator platform. The wallet supports a wide range of digital assets. Key features include 2FA, multi-sig. technology, and cold storage to enhance the security of user funds.

OKX promotes access to the DeFi ecosystem via its Jumpstart Mining initiative, allowing users to farm DeFi tokens by staking OKB, OKX's ecosystem token.
Financials and Tokenomics#
OKX Exchange is one of the largest cryptocurrency exchanges in the world in terms of trading volume, and its financial status reflects its success in the industry.

In comparison to other CeFi exchanges, OKX Exchange ranks highly in terms of trading volume and revenue. According to CoinMarketCap, OKX Exchange is currently the eighth largest cryptocurrency exchange in the world in terms of trading volume, behind Binance, BitForex, Coinbase Exchange, and others.

OKX Exchange's OKB token is a major part of its financial ecosystem. OKB is the exchange's native token, and it serves as a utility token within the platform. It can be used to pay for trading fees, as well as for various services and products offered by the exchange. Additionally, holding OKB can provide users with various benefits, such as discounted trading fees and early access to new products.

The OKB tokenomics are designed to benefit long-term holders of the token. The exchange has implemented a buyback and burn program that uses a portion of the exchange's profits to buy and burn OKB tokens. This reduces the total supply of OKB, so its value can increase over time. Additionally, OKX Exchange has implemented a loyalty program for OKB holders that provides users with various benefits based on their OKB holdings.
Social Media#
OKX Exchange maintains an active presence on various social media platforms, including Twitter, LinkedIn, Facebook, and Instagram. As of April 2023, the exchange's Twitter account had over 2.9 million followers, and its LinkedIn page had over 159,000 followers. Over-and-above social media, OKX invests a significant amount in marketing and communication, and is, for example, the lead sponsor of the McLaren Formula 1 racing team. OKX announced its partnership with Neptune Mutual in November 2022.

OKX Exchange regularly posts high-quality content, such as market analysis and insights, educational resources, and news updates, which help to build trust and credibility with its followers. It hosts regular Twitter Spaces and has invited Neptune Mutual's co-founders, Edward & Gillian, to two different Twitter Spaces to discuss the OKX dedicated cover pool in the Neptune Mutual marketplace. This focus on education helps to differentiate the exchange and position it as a thought leader in the industry.

One aspect that differentiates OKX's communication strategy from other CeFi exchanges is its focus on education and market insights. The exchange regularly posts articles and videos that help users understand cryptocurrency trading and investing, which can be especially helpful for newcomers to the space. It also has a loyalty program that rewards users of its mobile app. Every day, five "learning missions'' are posted on the app, which require users to watch a video or read an article. By completing these learning missions, users are rewarded with 50 Satoshis. Once users have earned 10,000 Satoshis, the rewards can be converted into bitcoin that can be HODLed, staked, or traded on OKX.
Cybersecurity Track Record#
In March 2018, OKX Exchange was briefly shut down due to a security incident. The exchange announced that it had detected "irregularities" in its system and that it had suspended all withdrawals and deposits. The incident was resolved within a few hours, and the exchange resumed normal operations.

In September 2018, OKX Exchange was involved in a dispute with its founder, Star Xu. Xu was reportedly detained by Chinese authorities for questioning, and this caused concern among OKX Exchange users. However, the exchange reassured its users that their funds were safe and that the incident did not affect its operations.

In 2019, the exchange claimed that they went through a scheduled wallet maintenance despite numerous rumors of breach across the social media. The exchange announced that it had detected suspicious activity on its platform and that it had suspended all withdrawals and deposits. The hack resulted in the loss of over $3 million worth of bitcoin. Following the incident, the exchange implemented new security measures and refunded the affected users.

In October 2020, OKX Exchange suspended all withdrawals after it was unable to contact one of its private key holders. The exchange stated that the keyholder was cooperating with law enforcement in an investigation, and that it was working to restore normal operations. Withdrawals were resumed in November 2020.

The exchange has taken steps to improve its security. OKX's hot wallet protects private keys with many layers of risk management systems, including an
online system,
semi-offline multisignature, and
big data risk management system.
OKX claims its semi-offline servers are invulnerable to physical attack. The server's temporary memory file stores a user's private key, not on a hard disk. This is designed to make hacking a lot more difficult.

OKX does not use TCP/IP, the standard mechanism for digital computers to interact across vast distances. A unique, partially offline network communication technology designed in-house avoids internet attacks.
Finally, backup private key activation emergency plans are distributed.
Tags