Unraveling Visa and Mastercard Initiatives in Web3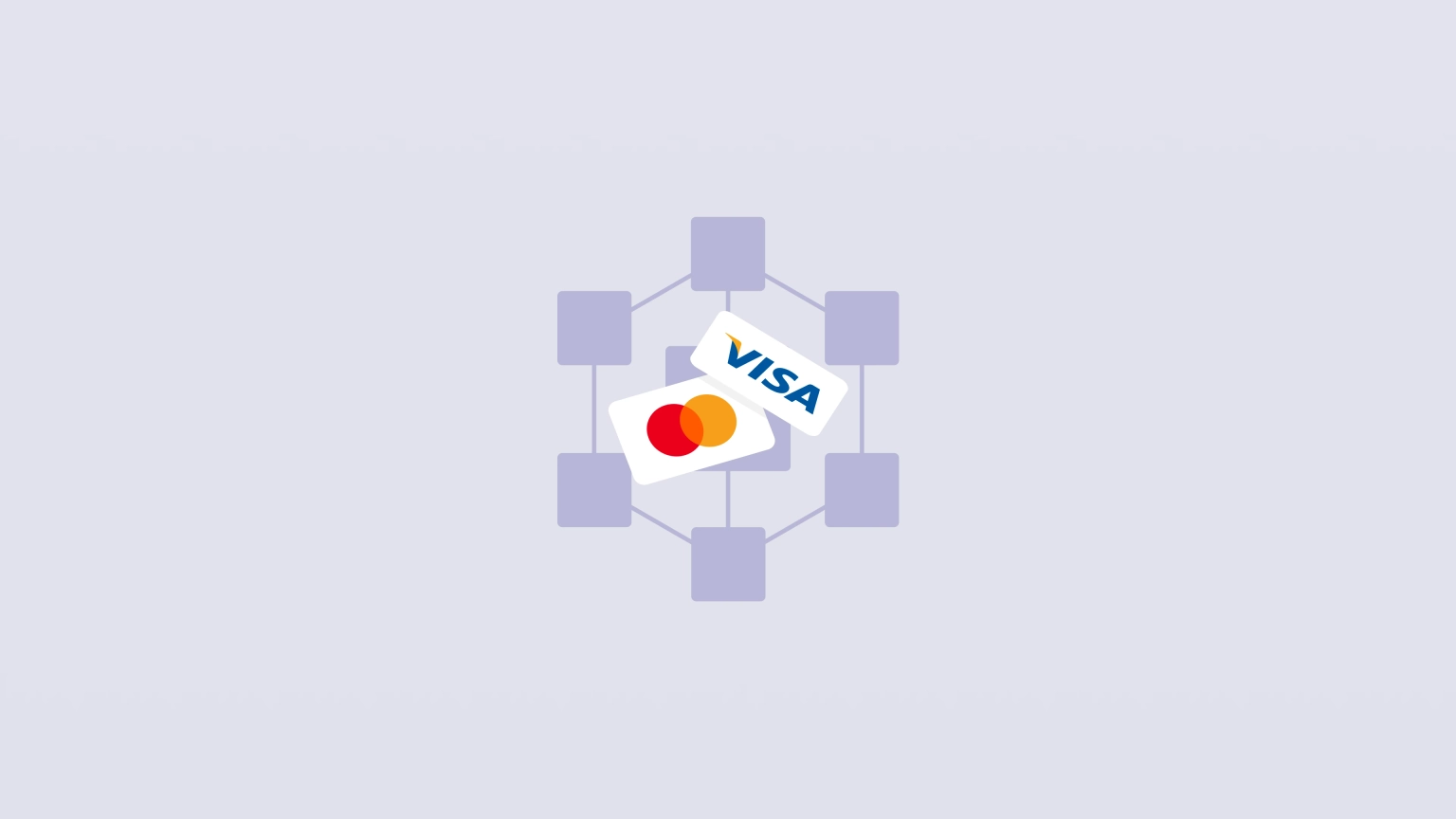 Learn how Visa and Mastercard have adopted Web3 technologies into their ecosystem.
Visa and Mastercard are the gold standards for Web2 and real-world online payment processing. Together, they process around 390 billion transactions per year. They're available worldwide and are able to handle high volumes of transactions.

In theory, Visa can process as many as 24,000 transactions per second, while Mastercard can handle around 5,000. In the real world, throughput is typically lower than that, but still many orders of magnitude above most base cryptocurrency layers.

In recent years, both of these Web2 giants have started to explore Web3, looking at ways to use Web3 technology alongside or on top of their existing systems. By combining their TradFi experience with innovations from Web3, they are looking to adapt to the evolving financial landscape, stay competitive in a rapidly changing industry, and offer several benefits to their users. Their adoption of Web3 not only benefits their ecosystem but also increases Web3's credibility, leading to more people onboarding to the blockchain and DeFi space.

In this post, we will discuss how Visa and Mastercard are advancing by adopting and integrating Web3 technologies into their ecosystems.
Visa's Initiatives in Web3#
Founded in 1958, Visa is a trusted brand when it comes to shopping and one that has managed to remain relevant across the decades. One of the ways it's retained its relevance is through its commitment to innovation and willingness to adopt new technologies.

Here are some of the Web3 initiatives Visa has taken.
Visa Creator Program#
In August 2022, Visa introduced an NFT initiative called the Visa Creator Program. It's a training program to help musicians, creators, and artists build their small businesses through NFTs (Non-Fungible Tokens).

The program aims to educate creators about the underlying technology of NFTs and help them understand the benefits of digital ownership of their creations.
Visa Stablecoin Payments#
More recently, the company has started to investigate the possibility of extending stablecoin payments on some of its credit cards. It has partnered with Circle with the goal of allowing USDC to settle payments on the Solana blockchain.

Visa has been seen advertising for developers who have experience with Ethereum, including writing and debugging smart contracts and using AI-assisted tools such as Github Co-pilot.
Visa's Use of Ethereum Paymaster#
Visa is also exploring ways to take advantage of Ethereum's Paymaster feature to facilitate the payment of Ethereum gas fees using fiat. This would allow users to trade on Ethereum, swap tokens, or execute smart contracts on the Ethereum blockchain without worrying about having enough accessible Ethereum to cover transaction fees. With the initiative, the gas fees for any operation on Ethereum can be paid using a Visa card.

The concept of gas fees is something that confuses some beginners or less technical users in the blockchain space. Visa's solution would abstract gas fees away, making them more like trading fees on a traditional stock or currency exchange.
How Mastercard Is Adopting Web3#
Mastercard is almost as old as Visa, having been founded in 1966 as the "Interbank Card Association". While Mastercard's overall transaction volume is not as large as that of Visa, it's accepted worldwide and is popular both for credit and debit cards and for prepaid gift cards.

Just as Visa is determined to stay on top of the latest developments in the world of Web3, so too is Mastercard. Here are some of the notable programs and initiatives Mastercard has introduced in their venture into Web3.
Mastercard Artist Accelerator Program#
Similar to Visa, Mastercard has also introduced an NFT-based program targeting creators, musicians, and artists. The payment processor has launched its own NFT called Mastercard Music Pass, which was developed in coordination with the Polygon chain.

The Mastercard Music Pass NFT is a collectible that grants users exclusive access to the Artist Accelerator program. The program offers a variety of AI technologies, resources, and educational tools to help musicians boost their creativity. The program has utilized blockchain technologies with the aim of educating artists about the tools and AI innovations to enhance their music production.
Mastercard NFTs#
Mastercard is looking at ways to make it easier for consumers to buy NFTs. They've partnered with several major NFT exchanges to make it easier for users to purchase NFTs using their Mastercard credit or debit cards.

This support for purchasing NFTs directly from Mastercards allows art enthusiasts an easy experience with digital art collections. There's no hassle of setting up wallets, safeguarding private keys, or purchasing tokens with this feature.
Mastercard Crypto Credential#
Another area that Mastercard is acutely aware of is security and user verification. To improve the verification standards of users and reduce the possibilities of scams in the Web3 and cryptocurrency spaces, Mastercard has introduced Mastercard Crypto Credential. It ensures compliance and validation of transactions through Mastercard's standards and reduces the opportunities for fraudulent activities. This certification shows users that an address has been verified by Mastercard.

Several wallets, such as Bit2Me, Bitcoin, Uphold, Lirium, and Mercado, are on board with the program currently. Similarly,it has also partnered with popular chains like Aptos, Avalanche, Polygon, and Solana. Mastercard hopes to see more wallet providers and blockchains come on board.

Although Mastercard's Crypto Credential won't completely eliminate the issue of potential P2P payment scams, it might be able to assist prospective traders in avoiding NFT auction platforms, fake airdrops, and fake swaps.
Visa and Mastercard Paving Way for Web3 Adoption#
Visa and Mastercard jumping on board Web3 makes it easy to feel optimistic about the future. The last few months have seen some significant new innovations, such as Stylus, UniswapX, Solang, and so on. There have been several improvements in the performance, security, flexibility, and efficiency of dApps, wallets, and several blockchain technologies as well.

We're now entering the era of maturity for Ethereum. Instead of building new frameworks for transactions and smart contracts, developers are focusing on making Web3 accessible to everyone by providing an easy user interface and abstracting away the intricacies. Take Account Abstraction, for example, which is a technology that makes Ethereum account management convenient.

Anyway, the DeFi ecosystem is excited to see the backing of Mastercard, Visa, and other Web2 giants with their venture into the Web3 space. This not only allows users to interact with Web3 every day, but also promotes a wider adoption of Web3.
Neptune Mutual#
Neptune Mutual, as a company that focuses on security, is looking forward to the future of DeFi with optimism. However, we can't be sure of what this exponential transformation and adoption of DeFi will bring. So, we suggest that the best thing to do is secure your accounts and get your investments insured. And that's what Neptune Mutual is here for.

We have a cover marketplace that enables you to purchase coverage for the funds you're holding in different protocols. We let projects create cover pools in different chains for their users to purchase covers. Right now, we are available in Ethereum, Arbitrum, and BNB Smart Chain.

Let us know if you want to create a cover pool for your project, provide liquidity, or learn how to purchase policies. You can reach us through our contact page.
Tags