"Wen we moon?" - The road ahead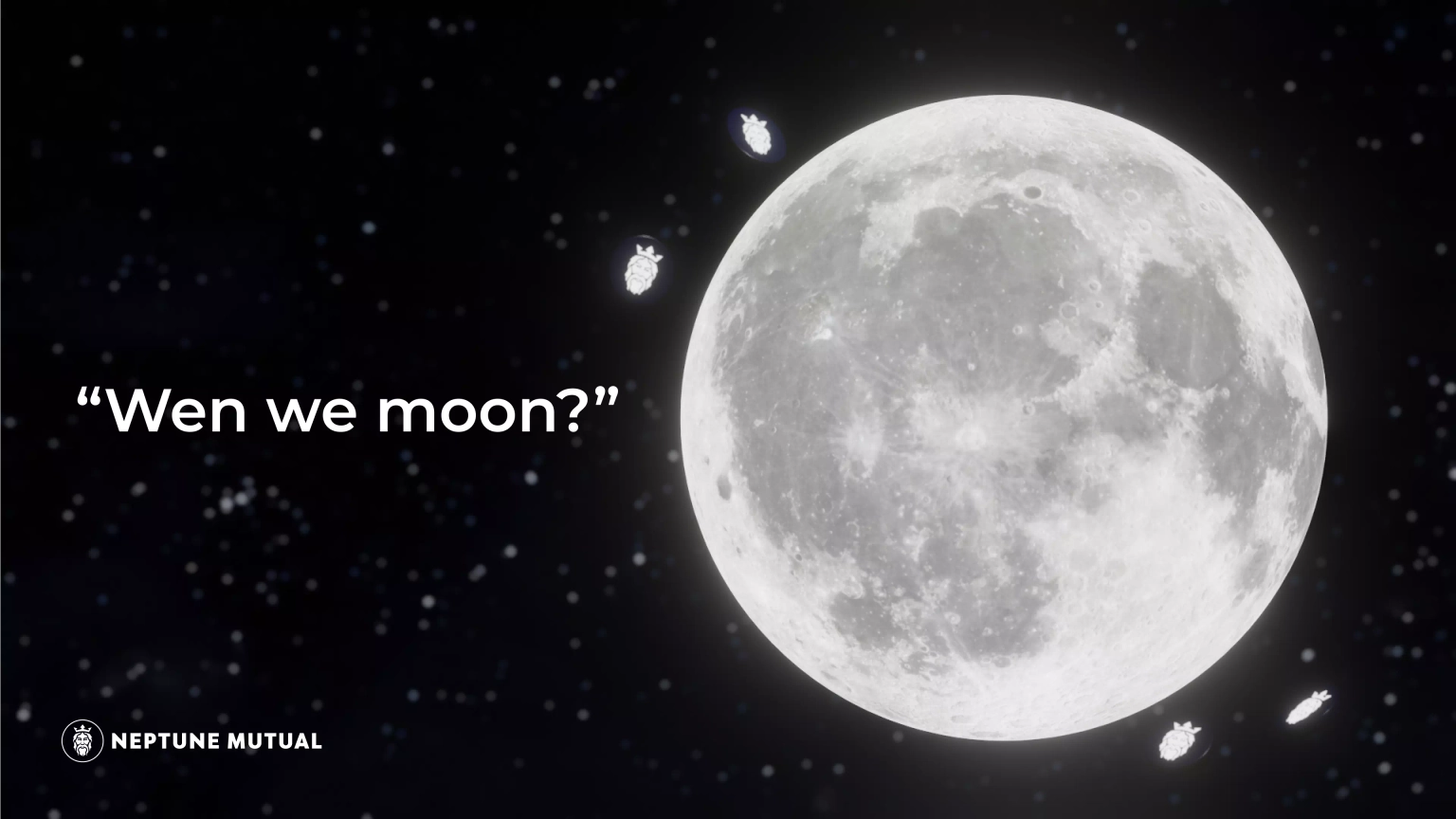 Addressing the community by answering the various questions asked after our initial launch.
We have received numerous questions since launching the NPM utility token on Sushi on Wednesday, May 17th. We will try to answer those questions as well as the question above in the response below.

The first thing to say is that the Neptune Mutual team has worked very hard over the last 20 months and continues to do so. Unlike many DeFi projects, the founding team is not anonymous; the three co-founders are staking their reputations on doing everything possible to take the project to the moon. Neptune Mutual has a full-fledged 25+ member team and is still growing.

In the world of DeFi, speed often supersedes security and functionality. Neptune Mutual, however, has adopted a different approach, focusing on strategic growth, careful planning, and diligent application of resources. The team recognizes the journey to the moon as a marathon, not a sprint. Their approach to token launches is prudent and methodical, ensuring they have the necessary resources for subsequent phases. Their judicious resource allocation also demonstrates their resolve to remain operational and valuable in the long term.

DeFi projects across different market sectors have different strategies for getting their projects to the moon. Some community members have been questioning the Neptune Mutual strategy around this initial launch of tokens into the public domain through the seeding of a pool on Sushiswap, and we share some thoughts below.

The moon is 384,400 kilometers away. It is a very long and challenging journey. It takes time and a great deal of fuel to get to the moon. At Neptune Mutual, we are, and we will continue to be, extremely careful in the way we deploy the more than 10 million USD of funds that we received from over fifty professional investors since our incorporation in September 2021.

It would have been an easy option to deploy hundreds of thousands of USD in marketing and market-making to create a spectacle for the token launch. But wasting fuel at low altitude where there is much resistance can cause problems later. While an expensive outlay of fuel may appear impressive in the short term, it can lead to a lack of fuel when it's really needed to accelerate at higher altitude. Getting to the moon is done in phases, not in the 24 hours after a token deployment. Neptune Mutual's strategy is to proceed through each phase, accelerating at the right time and driven by just the right amount of fuel. As previously communicated, Neptune Mutual will be launching the NPM on other DEXs on other chains, and each time Neptune Mutual will be seeding the liquidity. We will be launching very soon on the Uniswap DEX on the Ethereum chain. More announcements may follow about other chains and other DEXs. It is also on Neptune Mutual's roadmap to launch on a centralized exchange; this will require a very considerable budget both for marketing and market-making. When we get to this point, we will have the budget to launch successfully precisely because we have fuel in the tank that wasn't wasted in the early stages of launch.

The path to a successful rocket launch is paved with the meticulous crafting of the rocket and the rigorous examination of its quality. Analogously, at Neptune Mutual, we've committed a considerable amount of time, money, and resources to ensuring the security of our smart contract code and web apps. As evidence of our unwavering dedication to security, we've partnered with industry-leading entities such as Open Zeppelin and Blocksec, recognized as the gold standard in DeFi security. Our commitment is not limited to rhetoric but demonstrated through substantial monetary investments strategically aimed at furthering our ultimate objective of providing a secure user environment. Furthermore, Neptune Mutual will continue to channel resources and capital towards enhancing smart contract audits and cybersecurity measures. Neptune Mutual continues to seek out other top-tier audit firms, demonstrating an unwavering pursuit of quality and safety for its users.

Getting to the moon is not just up to the pilot. It involves aligning the interests of the whole team, or ecosystem. We have tried to manage and align the interests of early investors with those of other parts of the ecosystem, including cover purchasers, liquidity providers, and cover creators to name a few. As communicated, TGE for the NPM token was May 1. Most seed, strategic, and private round investors had a portion of their token unlocked on May 17. As the public did not have tokens prior to launch and Neptune Mutual has not sold any tokens, any price depreciation over the last few hours will have resulted from selling pressure from token holders looking to exit their position. We do not have any comments to make about market pricing or investors' strategies in this respect. Neptune Mutual has not sold tokens as the objective was not to raise more capital but to ensure the availability of NPM tokens to users of the protocol as it has at least five different use-cases in terms of its utility to the cover marketplace platform.

We can confirm that we have received and continue to receive strong support from the vast majority of our investors, who believe in our long-term strategy for success, milestone by milestone, and our community-focused and product-driven strategy.

We have a full calendar of community and product-related projects that will be implemented over the coming weeks and months that we believe will drive visibility, engagement, and growth in TVL and cover policy sales, including:
Token launch on one or more other DEXs
veNPM & Liquidity Gauge Pools
NFT loyalty rewards
Cover creator co-marketing
Project partners co-marketing
Launch on new L2
Launch on Centralized Exchange
For each of the above projects, we commit to investing in marketing resources to promote the benefits of each initiative and enhance the visibility of the Neptune Mutual application to all digital asset owners. The loyalty rewards and the design of the veNPM and liquidity gauge pools should be particularly strong drivers of growth and engagement in our community. Each of these initiatives, supported by specific marketing initiatives, should help boost growth in our community and the corresponding demand for access to our cover marketplace which requires ownership of NPM tokens.

As to the initial question, "Wen we moon?", all we can do is say that we have launched, that we have a lot of fuel on board for the subsequent phases, that if investors want to exit they now can, but for those who wish to stay we are committed to accelerating our path towards growth, decentralization, a strong community, and greater adoption of digital asset protection. We hope you will stay with us for the journey. We are aiming for the moon, and we believe that we can get there in time, even if we cannot say "wen".

We hope the above provides some reassurance about our token launch and how we are on track not only for the first 1km of the launch but for the complete journey and safe touch-down to the moon.
Tags