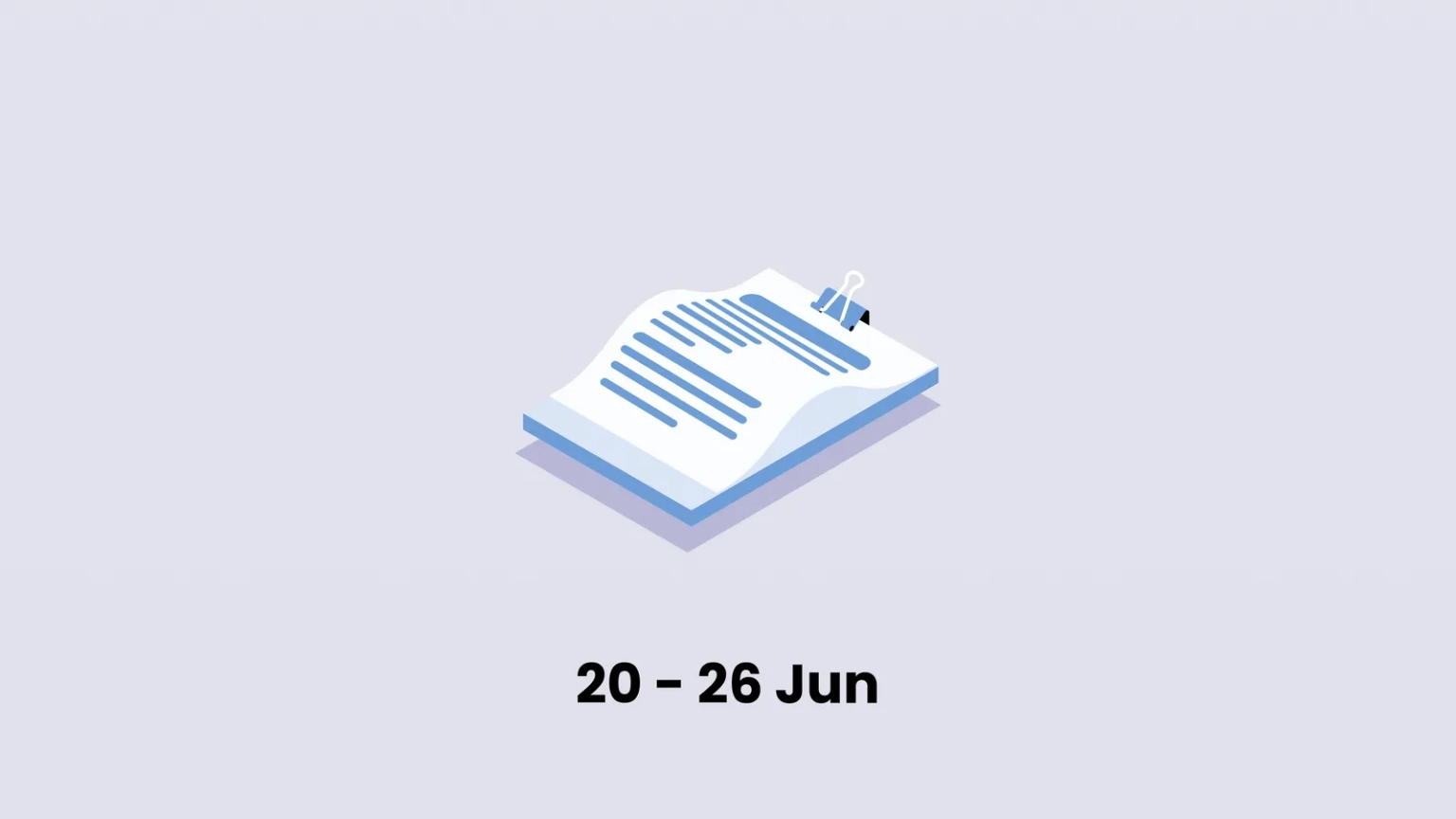 Cristiano Ronaldo and Binance partner up to release NFTs. MoonPay to launch NFT platform.
TL;DR#
The Horizon bridge on Harmony was hacked; the attacker stole over $100 million.
XCarnival loses approximately $3.8 million dollars from exploited smart contract vulnerabilities.
Cristiano Ronaldo and Binance partner up to release exclusive NFT collections.
Shopify unveiled tokengated commerce for online retailers; eBay acquired UK-based NFT Marketplace.
MoonPay teams up with Universal Pictures and Fox, amongst many others, to launch an NFT platform.
NHL enters the NFT space in collaboration with Marketplace Sweet.
Major businesses and industry heavyweights have laid off large numbers of their technical and non-technical employees as the cryptocurrency market continues to decline in preparation for an eventual long crypto winter. However, cryptocurrencies and highly valuable digital assets remain abundant, which explains why cybercriminals like hackers, scammers, and fraudsters continue to increase in number during this crypto winter despite the market's bearish trajectory. There have been eight significant cyberattacks, hacks, and exploits in the second quarter of the year, totalling $445 million in stolen assets. Many Discord servers have been compromised in the first two weeks of June alone, with reports of 41 intrusions between June 1 and 10th. As a cautionary suggestion, we would like to remind everyone that any investment in digital or tokenised assets, no matter how modest, should be done with very careful consideration, and it's always best to stick with projects that have had a number of audits and security checks by blockchain security agencies to minimise the chance of losing money.
Blockchain Hacks#
Harmony, the open and fast layer-1 blockchain, reportedly suffered from an exploit on the Horizon Bridge, losing approximately $100 million, including 11 ERC20 tokens, 13,100 ETH, 5,000 BNB, and 640,000 BUSD. The team has already begun collaborating with national authorities and forensic specialists to identify the perpetrator and recover the stolen funds. Fortunately, this theft had no effect on the trustless BTC bridge, so its funds and assets stored in decentralised vaults are currently safe. After which, they notified exchanges and shut down the Horizon bridge to prevent further malicious transactions; the Harmony team remains hard at work as the investigation continues.
Convex Finance was hit by a DNS attack that caused users to approve malicious contracts on some interactions on their website. The attack resulted in a loss of approximately 215 ETH. Currently, the team has resolved the issue, and a full investigation, followed by a post-mortem from official sources, is still pending. At the time of the event, 5 addresses appear to have approved malicious contracts, while funds on verified contracts remained unaffected. In addition, the team has created an alternate domain for Convex users to use.
The LV PLUS (Token LVP) project has been identified as a Rug Pull project, with losses of approximately $1.5 million. The main reason for the loss, which is defined as a Rug Pull, is that the LV PLUS contract deployer sent tokens to specific wallet addresses, which then sold the project's tokens, causing the project's market to crash. After receiving the tokens sent from the deployer wallet addresses, 5 major wallets dumped them, with the most funded wallet dumping $1,031,863 for a total of about $1.5 million. The funds are then transferred to a general account. The total profit in the account had reached $7 million at the time of the event, with all funds still in the scammer's aggregated wallet.
XCarnival, the NFT liquidity solver, was exploited in a flurry of transactions, resulting in a gain of 3,087 ETH worth approximately $3.8 million for the hacker. The attack was made possible because the released NFTs were still used as collateral when the alleged attacker was able to transfer the NFT with a fake xToken and later borrow all the assets. The initial funding for the hack, 120 ETH, was withdrawn from Tornado Cash. The team has paused their smart contracts, and all deposit and borrowing actions are currently unavailable.
Metaverse, and NFTs#
Binance and Cristiano Ronaldo have announced a multi-year partnership that will result in the release of exclusive NFT collections. The global exchange has collaborated with football legend Cristiano Ronaldo to launch exclusive NFT collections on the Binance NFT marketplace. Binance users in certain countries can also use Binance Pay to purchase NFT collections. The collaboration will give global football fans access to limited edition NFT collections. The NFT collection's first set will include iconic designs created in collaboration with Ronaldo, which is certain to entice football fans from all over the world, and Binance intends to elevate the experience.
Shopify customers can now connect their crypto wallets to stores on the platform to validate their own specific NFTs as part of a new series of connect-to-consumer initiatives launched this year. This activation will then grant them access to pre-sales for drops, in-person experiences, and exclusive content or merchandise. The initiative, dubbed tokengate, was previously tested in beta mode by invitation only to a select group of merchants with an NFT collection but is now open to all merchants worldwide. To get started, vendors can use the Shopify app to create a tokengate shop or add the feature directly in-store. Buyers would then need to connect their crypto wallet and prove they own the relevant NFTs, in order to shop gated merchandise or attend exclusive events. On the platform, the feature acts as a link between NFT communities and consumer brands.
eBay, the e-commerce behemoth, has announced the acquisition of KnownOrigin, the Manchester, UK-based NFT marketplace, for an undisclosed sum, which will allow the company to expand further into the worlds of blockchain technology and digital collectibles. The move demonstrates eBay's ongoing interest in using cryptocurrency and blockchain technology to improve its operations. eBay was one of the first e-commerce sites, and it now aspires to be the preferred shopping destination for Generation Z and millennials.
MoonPay, a cryptocurrency payments company, has announced the launch of HyperMint, a new service that allows brands to mint up to 100 million NFTs at once. The new service enables creators and brands to associate images, music, video, or other metadata with tokens on their own platform. Fox Corporation, Creative Artists Agency (CAA), Universal Pictures, Death Row Records, the United Kingdom-based luxury store Selfridges, lifestyle and gaming platform FaZe Clan, and music producer Timbaland's Beatclub are among the companies that have already signed on. MoonPay CEO Ivan Soto-Wright revealed that one of its potential use cases is proof of attendance tokens, which are used to track how many people attended an event. MoonPay also stated that these digital assets would be utility tokens, as opposed to security tokens.
The National Hockey League has announced a collaboration with NFT Marketplace Sweet. This will be the league's first foray into digital collectibles. The partnership, which includes the NHL's players and Alumni Association, will go live in October to coincide with the start of the 2022–2033 NHL season. The NFT marketplace is expected to provide NHL fans with a variety of experiences, including digital collectibles featuring historical moments, past and present season game highlights, and NHL stars' top plays. Gamified collection experiences, specialty packs, and 3D interactive trophy rooms where users can display their collections will also be available on the marketplace.
OnChain Insurance Industry News#
The Nexus Mutual token, NXM, was trading around the 39.5 USD mark on Friday 24th June whilst the wrapped version of its token, WNXM, was trading around 10.75 USD. So why such a difference in value?
NXM tokens are purchased to buy membership of the blockchain-based mutual from which smart contract cover is available; this cover can be purchased in NXM tokens. The sale of NXM tokens is constrained by capital requirement conditions associated with the policies that have been underwritten. Members can wrap the NXM token, and in so doing create the WNXM token which is transferable.
With the integration of EaseDeFi, formerly ArmorFi, into Bright Union's Uninsurance ecosystem, users of the latter platform can now make better-informed risk management decisions with the most comprehensive offering of insurance products against hacks and smart contract failures. With this integration, their users can now enjoy premium-free coverage with a pay-only service if a hack occurs.
Tags